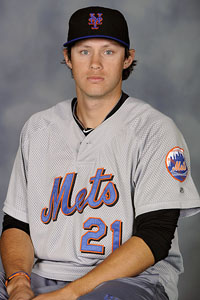 We all see Major League farm systems and minor league players ranked around the web, so with spring training on the horizon, now is the perfect time to began shining a Daily Stache spotlight on what can be expecting in 2012 from some very significant young Mets down on the farm.
Here comes the first installment of the Daily Stache's Top 10 Mets Prospects of 2012.
10. Matt Den Dekker, Outfield, Bats: L, Throws, L, Age: 24, ETA 2013
Outfielder Matt Den Dekker squeaks onto my list. The Mets selected him in the fifth round of the 2010 MLB Amateur Draft.
The New York Mets possess a positional prospect pool with a growing number of outfielders that will garner consideration. Down the road, meaning the next two years, this will come in handy as the major league club must sift through the muck that has been occupying left and center field.
If guys like Jason Bay, Andres Torres and others can't get things done, some farm system call-ups could become a necessary refresher. Guys like Den Dekker are anxiously waiting in the wings for something to go wrong.
Den Dekker is in the awkward position of being a hit or a miss, however. His 2011 call-up to double-A Binghamton last year did not go smooth at all. It almost could be considered a setback, because who knows, it might hamper his shots at the making an opening day roster.
Having fizzled down the stretch last year, his durability could be called into question. Those are the only serious concerns that come to mind. The last thing the Mets want is a bat to fade down the stretch. For a team in search of a constant spark, they need young bats that flourish during times of stress or during close races.
But with that being said, if he can fine-tune his hitting to fend off the strikeout bug he, like so many current Mets have contracted, he'll become a fine hitter in the majors in 2013.
Let's take a look at the positive tangibles he can bring to the table. Den Dekker boasts some excellent speed. He is not Jose Reyes or Angel Pagan, but he stole 24 bases in his 139 games in 2011. In my eyes, he could be slotted towards the six or seven spots of any lineup to provide some added speed and power to support bigger bats.
He slugged seven home runs off of right-handed pitching at Binghamton last year, part of 17 total on the season. The development of his power is evident, he just needs to find that balance between the long ball and keeping the ball in play, and that comes with experience.
And like all good, social baseball players, Den Dekker has taken Twitter @upperdekker.
The 24-year old needs some time, because patience comes with time. And that is exactly what could be expected from Den Dekker when next spring rolls around. With all the tools that he has, it would not be farfetched to say that he has a definite future somewhere in the Mets outfield. A best case scenario regarding Matt Den Dekker could see him fitting the mold of a 20-20 player. He may never hit .300, but there's a ton of upside to keep track of here.
10. Matt Den Dekker, Outfield, Bats: L, Throws, L, Age: 24, ETA 2013
9.
8.
7.
6.
5.
4.
3.
2.
1.