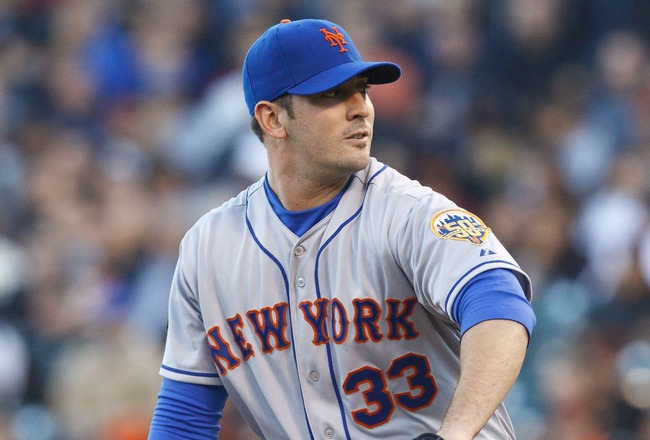 Matt Harvey was in top form against one of the NL's best tonight. The rookie righthander did it all in leading the Mets to an 8-4 win over the Cincinnati Reds. The win helps the Mets avoid a three-game sweep, a bit of a ritual these days.
This is the fourth series in a row the Mets have salvaged in the final game. Kind of a twisted way of looking at success, but you work with what you are given. But more on tonight's game and the good that came of it, because there was plenty of good.
Ike Davis and Jason Bay contributed home runs. With Davis launching his 21st, its a nice security blanket when you consider he has time to grow as a hitter while popping 20-30 home runs a year.
A nice entrance as a New York Met, veteran Kelly Shoppach entered the fray tonight with a pair of hits. He gives the Mets some much needed pop at the backstop position.
The obvious story tonight was rookie Matt Harvey. What doesn't this kid do?
He held one of the best hitting NL teams at bay tonight, stifling the Reds for just one run on four hits in nearly eight innings of work. His command was back and as good as ever. He walked only one in his longest outing of the year. He also contributed eight strikeouts, his second highest total of the year.
Harvey even showed he can handle the stick, notching two runs batted in on his first career double. The future brightens every time this he takes the mound. Unlike highly-touted pitching prospects of the past like Mike Pelfrey or even Jon Niese, there is an immediate buzz surrounding this guy, and its sure to echo throughout the entire National League.
Frank Francisco was atrocious in a simple relief effort tonight. Granted that's when he usually fizzles.
September call-ups are right around the corner, and its the next best thing a Mets prospect fan like I have to look forward to this year. But tonight's win was certainly one to remember when you look at the future of Matt Harvey and the possible direction of this rotation.