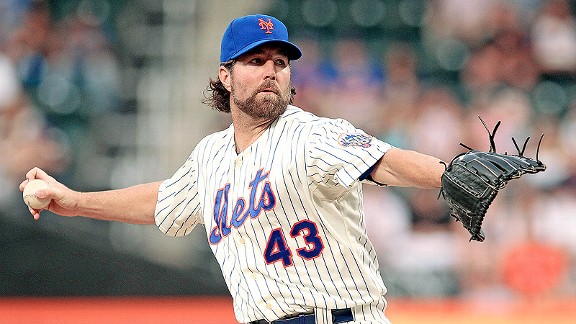 With the 2012 season spiraling out of hand, today was exactly what the doctor ordered.
The Mets went out there and their signature knuckleballer R.A. Dickey went out there and dealt a gigantic dose of 2012 first-half Dickey, defending his All-Star status.
On top of that, the lineup did a sufficient job of getting to Marlins ace Josh Johnson, showing some signs of life on offense as the Mets delivered in the form of a 6-1 sweep-avoiding win over the Miami Marlins.
At this point, without asking too much, you can hope for a third place finish leaving the Marlins and the Phillies in the dust. Salvaging the series against the Marlins certainly helps a tad bit. The Mets maintain a three game lead over Miami while sticking around at a less comforting 10 games out of the Wild Card race.
Today's game was all about Dickey. He spun his fourth complete game effort of the 2012 year, tops in the National League. In these same fashion as his long-lasting first half start, Dickey mowed down Marlins hitters, collecting 10 strikeouts in the process.
The lone run he allowed today was a Justin Ruggiano home run, just one of five hits for the Marlins today. Dickey even managed to halt the red hot Jose Reyes' hit streak at 26.
Those 10 strikeouts bump Dickey back up over Stephen Strasburg for the National League lead in that category for the time being. The win improves his record to a stunning 15-3 (temporary NL best in wins and win percentage) this year, and Josh Johnson dropped to a very disappointing 7-8.
This is also the sixteenth start this year that Dickey has given up five hits or a less. That's one more thing the Mets faithful can pull for. A late Cy Young run for Dickey who could easily still be considered a favorite.
It was a well-rounded effort for the Mets lineup today as well. Jordany Valdespin was the only Mets hitter without a hit today. Andres Torres had the big game with his second home run of the year, part of a three-hit, three-RBI day.
In a game like this where everybody contributes, it makes you feel a bit better about the current squad going forward, no matter how bleak everything looks in the present.
The Mets next opportunity to extend the good fortune is tomorrow night against the Braves as the homestand rolls on. Rookie sensation Matt Harvey looks for a bounce back start against recent acquisition Paul Maholm for Atlanta.