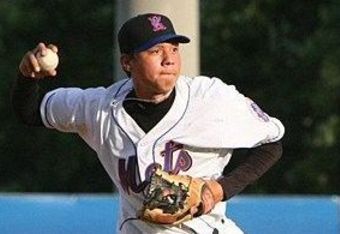 6. Wilmer Flores, Third Base, Bats: R, Throws: R, Age: 20, ETA: 2014
It is very easy to take a long look at Wilmer Flores and see right through his numbers. The truth is he is a stud amongst a mediocre crop of infield prospects in the New York Mets organization.
His frame is impressive, as he stands in at six-foot-three. He possesses the build of a future cornerstone to the middle of the order.
He still is very young and has plenty of time to develop. He just needs to take the next stop now so that time doesn't run out. He broke the single digit barrier in home runs in 2010, but reached only nine last year. Some will say his power needs to surface immediately.
That will be imperative if sticks at the hot corner. He'll need that power down the road to stand out in a division that houses big third base bats like Hanley Ramirez and Ryan Zimmerman.
On the whole, it is hard not to like what Flores as shown as a very young kid. Between the ages of 16 and 19, in four minor league seasons, Flores has hit .280 with 514 hits and 31 home runs.
Flores also swings one of the more well-disciplined bats in the Mets system in that he doesn't strike out much, especially impressive for such a young rising star.
The Mets play in a day in age in which the average major league hitter on the roster is almost guaranteed triple digit strikeouts by the end of the season. At this rate, Flores is destined to change that for the better.
Proper development will be paramount for Wilmer Flores. His skill set is vast and is improving. He just needs time to reach that full potential. The last thing the Mets showed do is rush him up the system; something the organization has fallen prone to doing.
Additionally, Flores' path to the pros is backed by David Wright, the current franchise hitter in the Mets lineup. Flores has spent most of his time at shortstop, but has transitioned to third to work on fielding. He can play anywhere in the infield if necessary.
It may be a few more years until the Mets see Flores in the Majors, but for now he is a significant player on the big league radar.
10. Matt Den Dekker, Outfield, Bats: L, Throws: L, Age: 24, ETA: 2013
9. Jordany Valdespin, Middle Infield, Bats: L, Throws: R, Age: 24, ETA: 2012
8. Cesar Puello, Outfield, Bats: R, Throws: R, Age: 20, ETA: 2013
7. Kirk Nieuwenhuis, Outfield, Bats: L, Throws: R, Age: 24, ETA: 2012
6. Wilmer Flores, Third Base, Bats: R, Throws: R, Age: 20, ETA: 2014
5.
4.
3.
2.
1.